THE VALUES
INTEGRATED PRODUCTION
The supply chain is fully integrated, beginning with research and development, moving onto design, all the way to the production of highly technological devices.
SOPHISTICATED DESIGN
The all-Italian team of engineers, researchers and technicians work in synergy to create unmatched and revolutionary technologies, result of the brilliant creativity and knowhow, distinctive Italian signature all over the world.
RELIABILITY AND TOTAL SAFETY
We pay great attention to the efficacy and safety of each treatment and equipment, the ease of use of our technology in compliance with the national and international regulations.
MEDICAL CERTIFICATION
The company has the ISO 13485 medical certification and we offer CE1370 certified electromedical equipment.
DEDICATED PRODUCTS AND GUARANTEED RESULTS
Cutting-edge cosmetics specially designed to work in combination with the APG TECH equipments to boost the performance and maximize the results from the first session. We also offer a complete range of products for the Epilation world. All our cosmetic product are developed internally in the ALFAPARF MILANO company, and are MADE IN ITALY.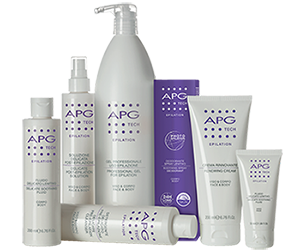 CONSTANT TRAINING AND UPDATING
We take care of our customers with continuous and updated training programs.
There is also a training Service dedicated to local technician. The local presence of a technician trained on APGTECH equipment is essential to ensure timely and high-quality service.
TECHNICAL SUPPORT CENTER
We give the maximum to offer the best support and assistance to our customers.
Specialized technicians are constantly involved in the development of new technological equipment and in the maintenance of those already on the market in order to ensure a complete and continuous service.
• Phone support in English;
• English-language video tutorial for the ordinary and extraordinary maintenance of the technologies;
• Remote Access software to solve/diagnose malfunctioning (only available for some equipment);
• Warehouse area dedicated to original spare parts, in order to ensure quick and effective assistance.